If you've ever wanted information about agricultural subsidies in other countries, the
Foreign Subsidies Database
at Texas Tech is a great resource.
The page has several interactive features. One feature is the
Subsidy Tables
which are laid out in table form and includes information from Argentina, Australia, Brazil, Canada, China, Egypt, the 27 countries of the EU, India, Indonesia, Japan, Mexico, Nigeria, Pakistan, Russia, South Africa, South Korea, Thailand, Turkey, Uzbekistan, Vietnam, and the West African countries.
The tables include information on direct support (price supports, direct payments, import quotas and tariffs, subsidies and export taxes), indirect support (state trading and ownership, investment assistance, and credit and transport subsidies), and statistics on the production, consumption, export, and import market share by country. Commodities listed in the database include corn, cotton, rice, sorghum, soybeans, sugar, and wheat.
The site also includes more detailed information in narrative form on the commodity support in the countries/areas listed above in the
Searchable Database
. Some of the data goes back several decades. For instance, here's a graph of Australian cotton production, consumption, imports, and exports: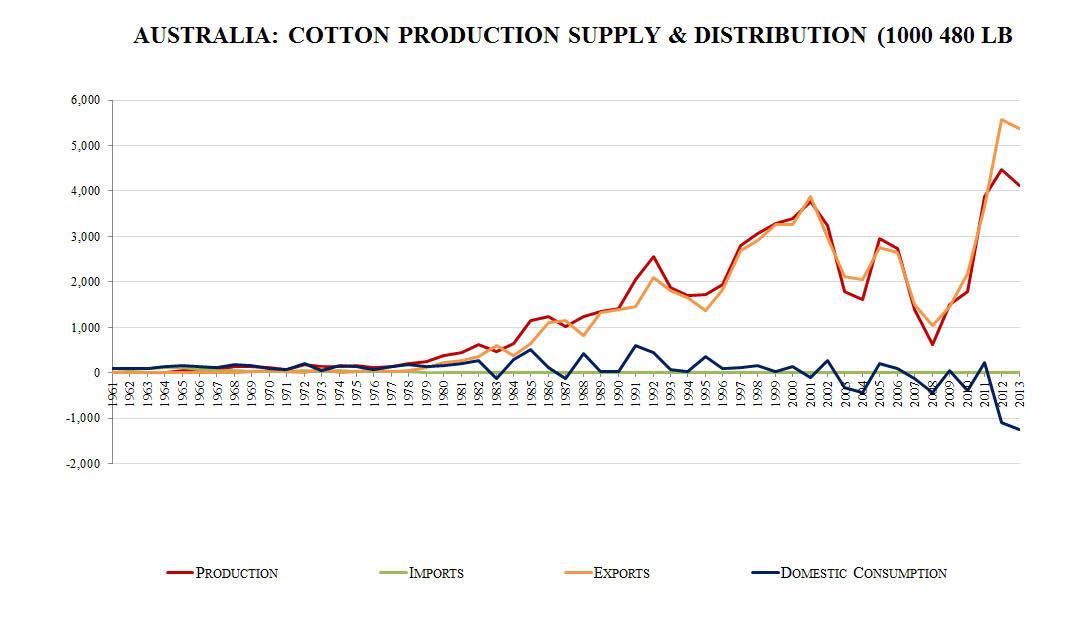 If you're interested in the way other countries subsidize their ag industries, I suggest you check out this site.